David and Hi Jin Hodge
Inspirations from the Dalai Lama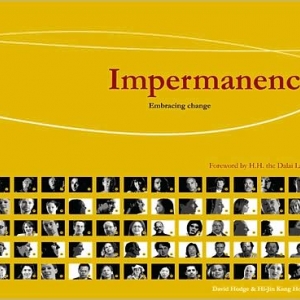 The Missing Peace Project is a traveling exhibition that brings together world reknowned artists to create works in response to the teachings of His Holiness the Dalai Lama. Some of these include Buddhist tenants such as life is suffering, mindfulness is the freedom from suffering and, possibly most pervasive, everything lives and dies. The Project features 88 artists representing 30 countries, including Chuck Close and Christo and Jeanne-Claude, whose purpose is to renew and revitalize global dialogue about peace. Filmmakers David and Hi-Jin Hodge have created a video exhibit called Impermanence: the Time of Man. In it, they interviewed dozens of men and women about impermanence, their thoughts around the end of life and experiences, their fears, anticipations, joys and appreciations. These are presented in a circle with a dozen iPods projecting excerpted images and sounds of these interviews. The result is a resonant, thoughtful and powerful piece on one of life's most fundamental aspects: the fact that it is finite.