Dowsing
Dispatches From the Great Indoors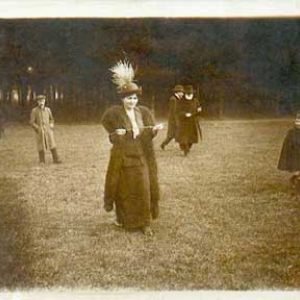 Excerpted from a recent 4-channel installation presented as part of Just Listen, an exhibition organized by the National Sculpture Factory in Cork, Ireland, Sound Artist Stephen Vitiello's Dowsing departs from his famed outdoor recordings, most of which were made in remote areas, as a haunting exploration of indoor acoustic atmosphere. The fractured inflection of friends' voices comingle with bells from a toy piano, Samuel Beckett plays across the room—and yet, this piece transports the listener as much to a midsummer stream bank as to the living room Vitiello tells us he recorded it in.

Vitiello is a true master of nuanced, and sometimes even melodic, sound art. He has had sound installations at the High Line in New York, at the Whitney Biennial, and at the Galerie Almine Rech in Paris. He was also awarded a residency at the World Trade Center in 1999, where he captured the aural aftermath of Hurricane Floyd from the 91st floor of one tower.