Paul Hayes
Paper Craze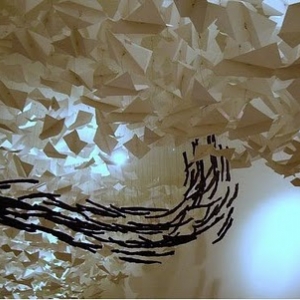 San Francisco artist Paul Hayes' enthusiasm for paper work developed whilst constructing the set for Sean Kelly's Measured Cuts, an absurdist satire based on the life of a hapless keyboard jockey. The final composition, a torrent of paper spilling out over a desk, offered Hayes a chance to see this ubiquitous material in a new light. He began to fill rooms with hundreds of sheets of paper, stuffing multi-storey buildings with thousands of crumpled sheets. The high impact lighting used to illuminate the careful folds in Hayes' vast and strangely organic fields and forests echoes his background in theatre and set design, his experimental approach to form making, delineating an inherent creative purity.

Hayes' installations seek to redirect the single dimensional view of a traditionally overlooked material by discovering what it can achieve sculpturally: "Part of what I'm doing is bringing a sterilized, processed, manmade product and returning it to the kind of arrangement that occurs naturally in biology…incorporating the suggestion of currents moving through the installation indicating force, motion and direction".

This piece was produced for the BBC World Service's Culture Shock.