Skank Bloc Bologna Number Four
Programmed by Anne Colvin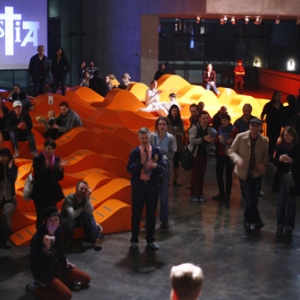 Skank Bloc Bologna Number Four at the Berkeley Art Museum/Pacific Film Archive is a series of events that blurs the line between performance and artifact.

In this edition, Tosh Berman presents Aleph, his father Wallace Berman's hand-painted filmic meditation on life, death, mysticism, politics, and pop culture. Tosh, who runs Tam Tam Books, talks about music with respect to his father and the film. Local artist Jennifer Locke's career as a professional dominatrix and champion submission wrestler informs her physically challenging "actions," which she performs hidden from the audience and reiterated in a live video feed. A recorded sonic tour by U.K.-based dub poet Lynton Kwesi Johnston explores his experiences as an African-Caribbean living in Britain. Tania Ketenjian, the host and producer of the radio arts program Sight Unseen, which airs in Berkeley and is syndicated on Resonance FM in London, will produce field notes drawn from interviews with audience members.