Private View: Ai Weiwei's Sunflower Seeds
Adriane Searle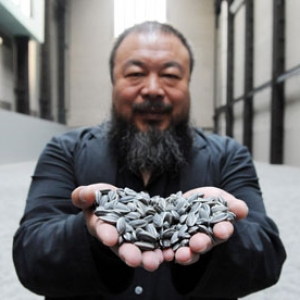 Arguably the most visible critic of the Chinese Government not currently in jail, artist Ai Weiwei has had, to say the least, a chaotic few years. From consulting on the design of Beijing's Olympic village to being beaten by police in Sichuan, Ai Weiwei was also dumbfounded witness to the Government's demolition of his $1 million studio in Shanghai. When Tate Modern commissioned Ai to create a piece for Turbine Hall, there was thus considerable speculation as to how much, if at all, Ai's work would be political in nature.

Join Adrian Searle as he strolls across Ai's ultimate installation: 120 million hand-painted porcelain sunflower seeds strewn across the floor of Turbine Hall. Searle notes that beyond displaying the astounding might of China's manufacturing arm, as a spatially and aurally interactive experience, Ai's piece is above all humanizing. Hear what striding across the seeds was like before Tate Modern put a rope around the piece's perimeter.